Start Reading Quran with our
Best Adult Online Classes in USA
Embark on a enriching Quranic learning journey with our comprehensive online classes, designed for adults at all skill levels.
It's never too late to start reading and learning the Quran. Our online Quran learning classes for adults are designed to accommodate busy schedules and cater to learners of all levels.
We provide our Quran classes to both male and female adults. Get in touch now for 1-week free trial of our top-rated online Quran teaching.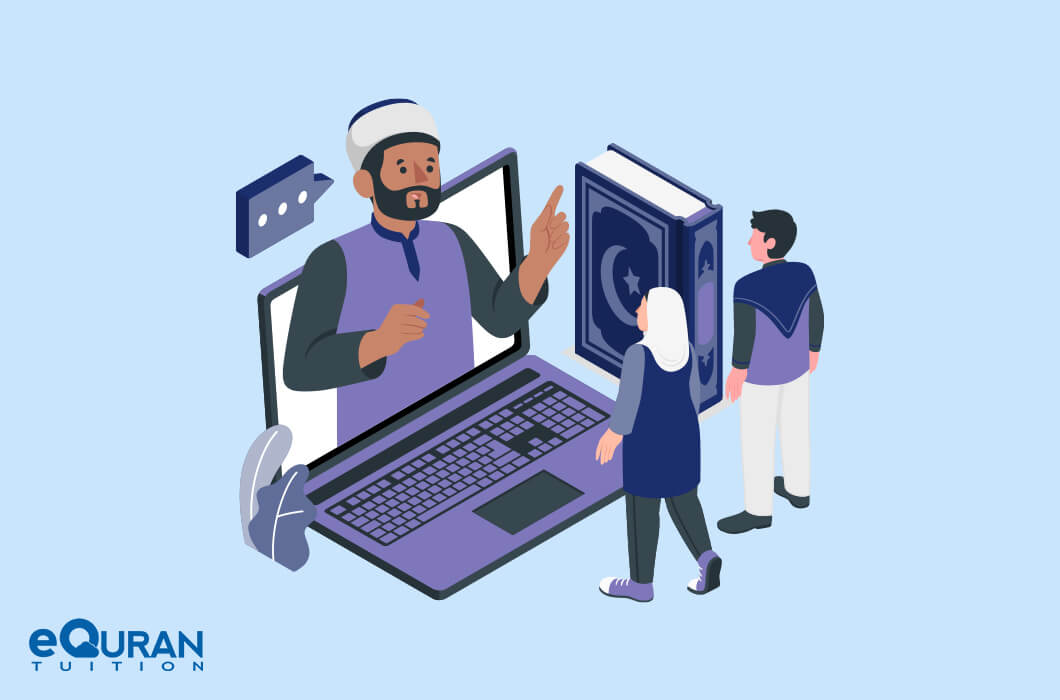 Learn Quran Online with eQuran Tuition
Here's What Sets Us Apart
Whether you are a beginner or wish to enhance your understanding, our classes cater to all levels of proficiency. Through our structured Quran curriculum, you will read Quran with Tajweed online, starting from the basics of the Noorani Qaida, and gradually progressing towards recitation, tajweed/tafseer, and online Quran memorization (Hifz).
We understand balancing work, family, and commitments is challenging. Our online Quran tuition offers flexible hours, catering to your schedule with morning and late-night options.
Our experienced online Quran tutors offer personalized attention for adults. Whether a beginner or improving recitation of Quran, our instructors support your journey.
Tajweed Classes for Adults
Tajweed is more than pronunciation; it also emphasizes understanding of Quran. Our classes perfect recitation and deepen your grasp of learning.
Supportive Learning Community
Enriching learning with a like-minded community. Our Quran classes for kids & adults create a supportive space for connections, insights & discussions.
What do we offer in our
Quran learning Online for Adults
Are you an adult seeking to deepen your understanding of the Quran? Look no further! Our online Quran tuition provide a convenient and flexible way to study the Quran from the comfort of your home for adults of all ages.
One of the significant advantages of Quran learning online is the personalized approach to learning. Unlike traditional classrooms, one-on-one or small group sessions cater to unique student needs and pace.

For those seeking a deeper understanding of the Quran, our advanced-level course covers in-depth tafsir (interpretation), hifz (memorization), and the application of online Quranic teachings in daily life.
3. Online Quran Classes Structure
Online Quran sessions for adults typically follow a structured curriculum that covers various aspects of Quranic education and the understanding of Quran.
4. Basic Tajweed and Recitation
Children learn Arabic letters, Tajweed rules and recitation. Instructors ensure proper articulation and follow Tajweed principles under their guidance.
5. Mastering Quranic Verses
In Islamic education, memorizing Quranic verses holds profound importance. Online Quran courses simplify the process by dividing it into manageable segments guided by experienced teachers.
Gain insights & explore Prophet Muhammad (peace be upon him) teachings in our Hadith course. Qualified online quran tutors illuminate authentic Hadiths' relevance today.
Enhance Islamic jurisprudence understanding with our Fiqh course. Study principles, rulings, and their real-world application from Quran and Sunnah.
8. Virtual Classroom Environment
In our online Quran classes, students interact with teachers. Questions, clarifications, and meaningful discussions enhance Quranic learning.
Common Questions about Quran Lessons for Adults
Don't miss this opportunity to embark on a transformative journey with eQuran Tuition. Sign up now to get enrolled in our online Quran classes for adults and experience the joy of learning at your own pace.
One Week Free Online Quran Classes
Dive into our 1-week free trial classes to experience the brilliance of our online Quran classes in the USA. You pay only when satisfied with our free trial classes.
Discover the difference in our teaching approach, connect with our passionate Quran tutors, and witness the transformative impact on your understanding and satisfaction.
Fill out the form and we will be in touch in 24 hours.